10 SaaS Podcasts That Are Essential Listening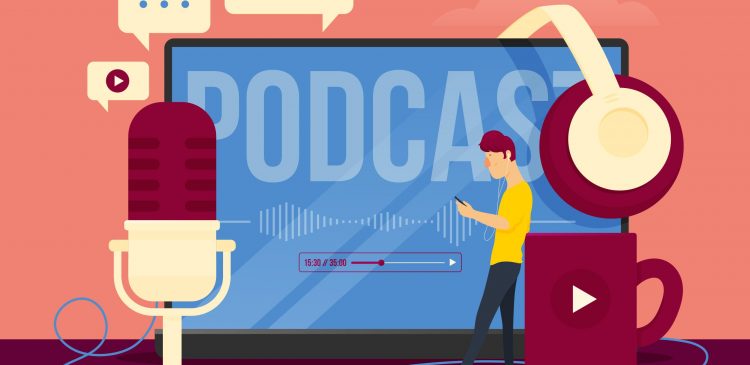 Are you looking for some great SaaS podcasts to help you build your company? 
One online study actually found that over 40% of monthly podcast listeners report that they listen to more podcasts now than they did a year ago. 
And if you're looking for inspiration, insight, and some impressive guests that can help guide you through your SaaS journey, you might want to take a look at some of these podcasts.
Read on to find ten of our favorite SaaS podcasts.
10 Best SaaS Podcasts That Are Essential Listening
1. The Saas Revolution Show 
Hosted by the founder of SaaStock, Alex Theuma, each 30 minute episode shares an easy to listen to conversation with a founder or expert in the SaaS world. 
If you want to keep track of what's going on in current SaaS affairs, in a way that's entertaining and thought provoking, this is definitely the podcast for you.
2. Inside Intercom Podcast 
Did you know that the experts of CRM, Intercom, have their own podcast? While not exclusively a SaaS podcast, they cover plenty of insight about the SaaS industry as a whole.
You'll also find they give you decent insights into marketing, startups, design, and product management – all in a handy 30 minute episode.
3. The Official SaaStr Podcast 
Hosted by the excellent Harry Stebbings, the official Saastr podcast focuses on SaaS and the B2B environment as a whole. 
Each 25 minute episode explores a topic to do with everything from customer success to fundraising and seed rounds.
4. Saas Open Mic 
The SaaS Open Mic podcast is run by ChartMogul, and hosted by Ed Shelley. 
You'll find that each episode is an entertaining interview, lasting about 30 minutes apiece. So if you ever wanted to deep dive into the minds of some of your favorite SaaS heroes, now's your chance!
5. The Growth Hub Podcast 
If you're looking for a SaaS podcast that will both entertain you as well as inform you (infotainment, if you will), then you're going to want to get stuck into the Growth Hub Podcast. 
Host Edward Hub interviews experts in the field of SaaS, and explores topics in handy, 35 minute long episode bites. Delicious!
6. Build your Saas 
If you've ever wondered what it's like to build your own startup in 2020, then Jon and Justin are the podcast show hosts for you. The Build your SaaS podcasts follows along as they attempt to build the transistor.fm empire. A little meta, it's essentially a SaaS podcast about building your own SaaS podcast world.
Not just for those into knowing how the sausage is made, the podcast covers the tips and skills you need to master to be successful in the SaaS game – from marketing and sales to payouts and burnouts.
7. Saas Breakthrough 
From the people who brought you Demio, SaaS Breakthrough is a podcast dedicated to all things SaaS marketing. Each episode is a case study style interview of a successful SaaS company, and covers everything that you ever wanted to know. 
In cheerful and frank discussions, you can tap into some of the best minds in the industry and find out not just what worked for them, but where they made mistakes, how they grew, and the insights they've gained along the way.
8. The Indie Hackers Podcast 
If a 30 minute podcast isn't going to cut it for you, then maybe the Indie Hackers Podcast is the SaaS podcast for you. With a focus on founders and growth hackers, these hour long topics cover everything from bootstrapping to scaling.
Hosted by the compelling Courtland Allen, you'll learn everything you ever wanted to know from some of the most successful SaaS and online businesses out there. The focus of the podcast isn't just on those who are running SaaS companies now, but also looks at people who have moved on from the SaaS world, pivoted to other projects, or started more companies off the back of their initial idea.
9. The Startup Chat 
From the geniuses who brought you Close, Crazy Egg, Kissmetrics, and FYI, you can now enjoy listening to conversation between Steli Eli and Hiten Shah as they talk about easy and manageable ways to enjoy SaaS business growth.
Each episode is a nifty 20 minutes or so, and is a great way to learn some tried and tested ways that these SaaS experts enjoyed explosive and continual growth. Perhaps the standout of The Startup Chat is that the intention is to give you actionable insights from jump – so you can enjoy a cup of coffee while furthering your SaaS education.
10. The Saas Podcast 
The dulcet tones of Omer Khan, onetime director of product management for Microsoft's online services division. underpins this SaaS podcast. The SaaS Podcast explores the best ways to build, develop and grow your SaaS business goals. 
Through open and honest conversation with some of the stars of the SaaS industry, you'll be able to learn more about the behind-the-scenes of these companies, as well as how to take proactive steps for developing your own business.
So, there you have it. 10 SaaS podcasts that will help you build your company to success. Which are some of your favorite SaaS podcasts?