5 Free Social Media Listening Tools to Grow your Business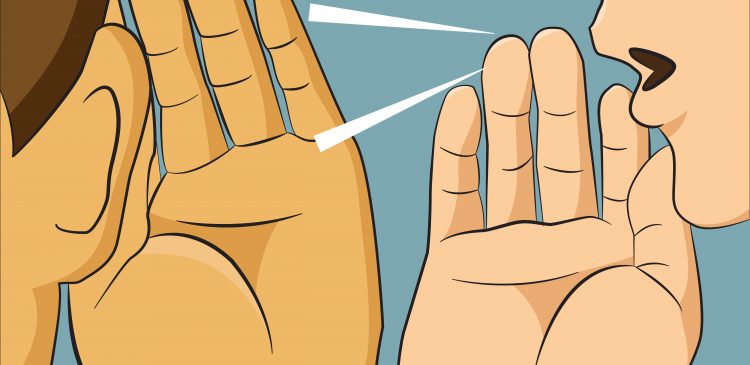 What's one of the top things you can do to grow your business?
Market research.
And how can you gather valuable insight into what people are saying about your product or service?
Through social media listening, of course!
This post will introduce you to some free tools that will make it easy for you to find out what people are talking about and help you reach new customers. So without further ado, let's get started!
5 Free Social Media Listening Tools:
1. Mention.com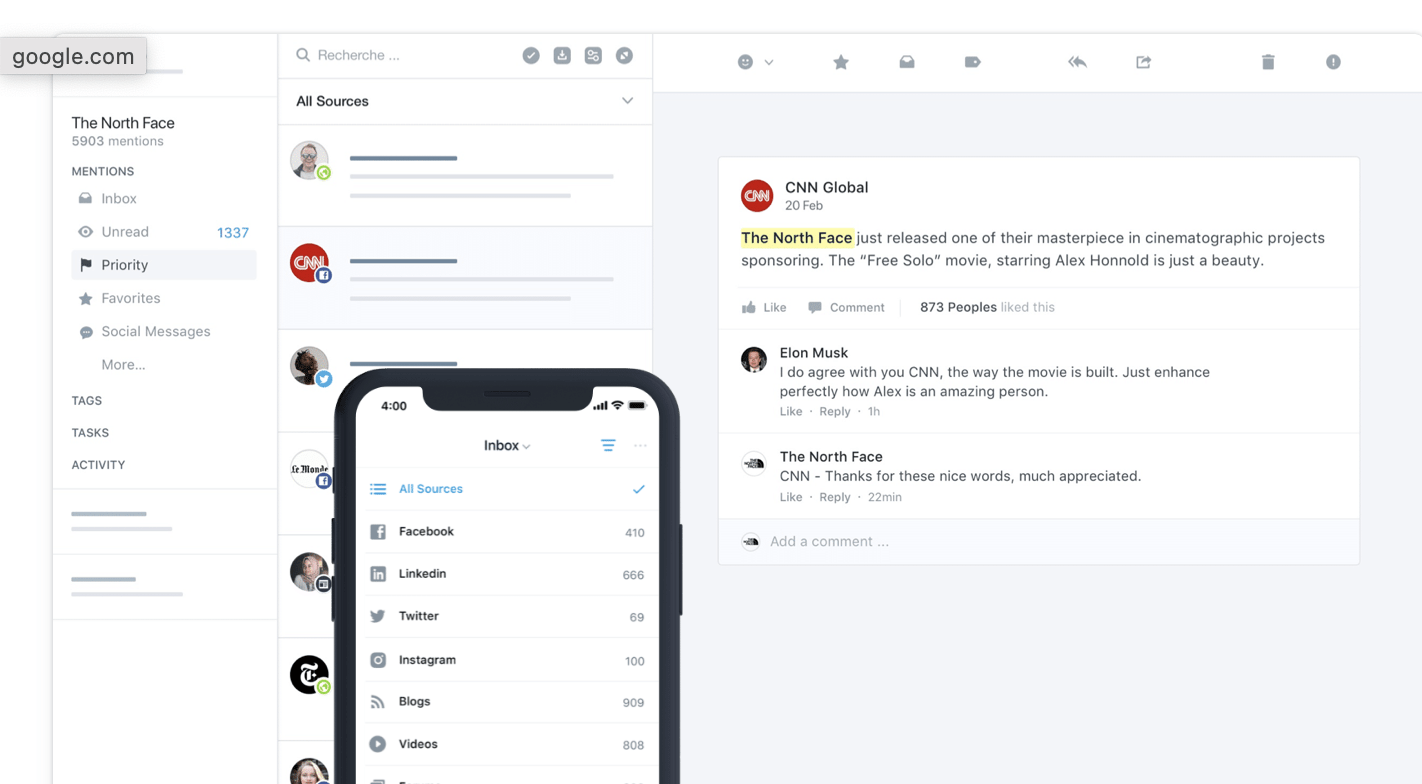 Mention is a social media mention monitoring tool that tracks social media conversation across the web, blogs and social networks.
It's a very simple way to see what people are saying about your brand or industry, especially considering you'll be able to track keywords, competitors and even specific employees–all for free!
Note: at the time of this writing all social media mentions were limited to 1000 mentions unless you have a paid account. Also note that only 3 projects can be created with this version.
After you've signed into your account, you can add social media keywords as projects.
How it works:
When adding a social media keyword project on Twitter,  you'll want to include the social network name and mention frequency type . Then enter your keyword once on both screens.
To set up social monitoring of your brand or competitors, click on 'Social' from the top nav bar and then select 'Brand Monitoring.'
You'll want to specify which social networks you'd like to monitor (Twitter, Facebook, Google+, Blogs). Then decide what kind of mentions you'd like to follow:
Mentions Only
Favorites Only
Mentions & Replies (recommended).
2. TweetDeck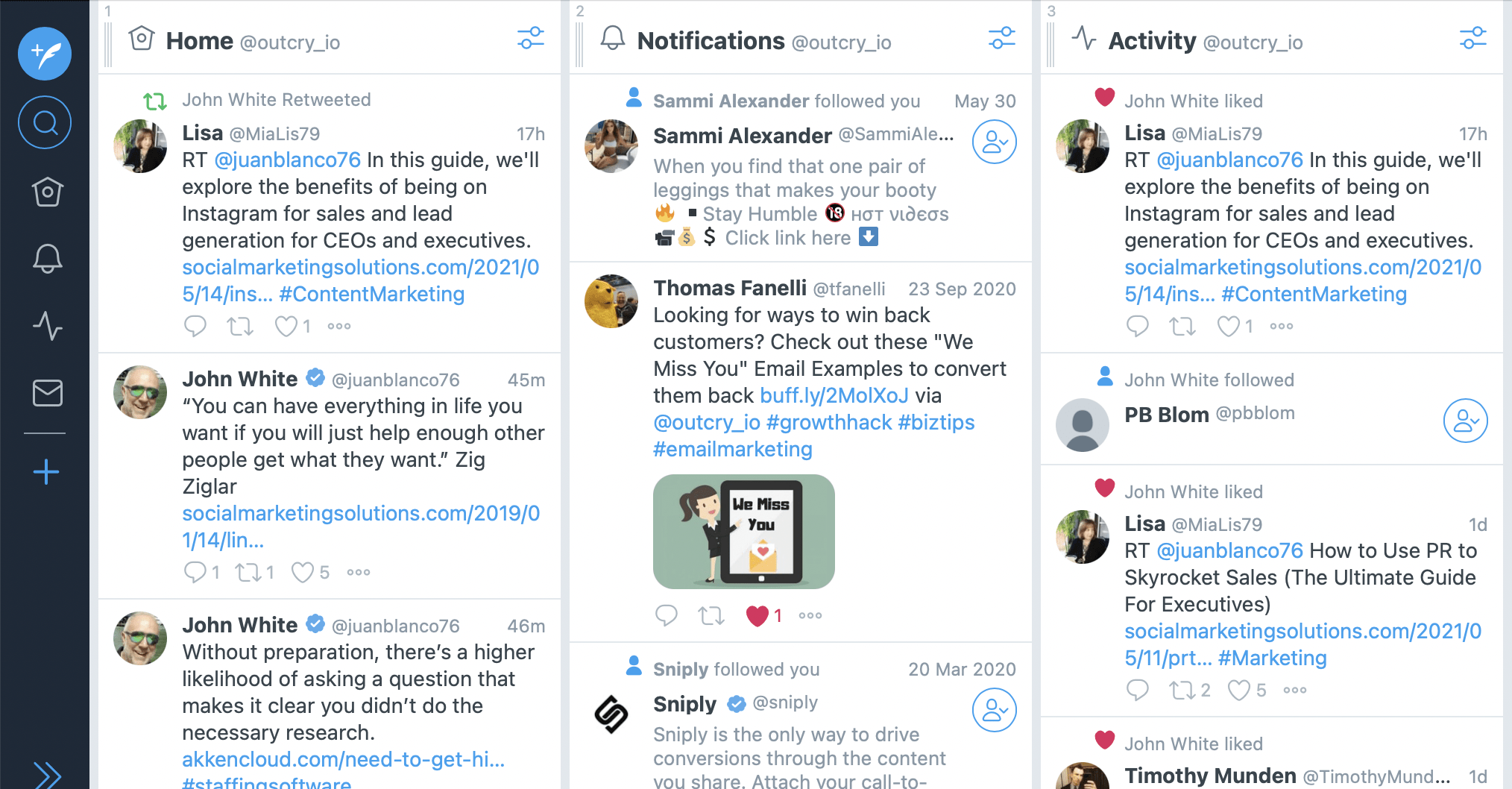 TweetDeck is a social media listening software that allows you to organize social profiles and social conversations in one dashboard.
How it works:
First, connect your Twitter account by clicking on the 'Add Account' or 'Connect' button under the social accounts heading.
After connecting social web profiles, you can view recent activity directly on each social network page.
3. Google Alerts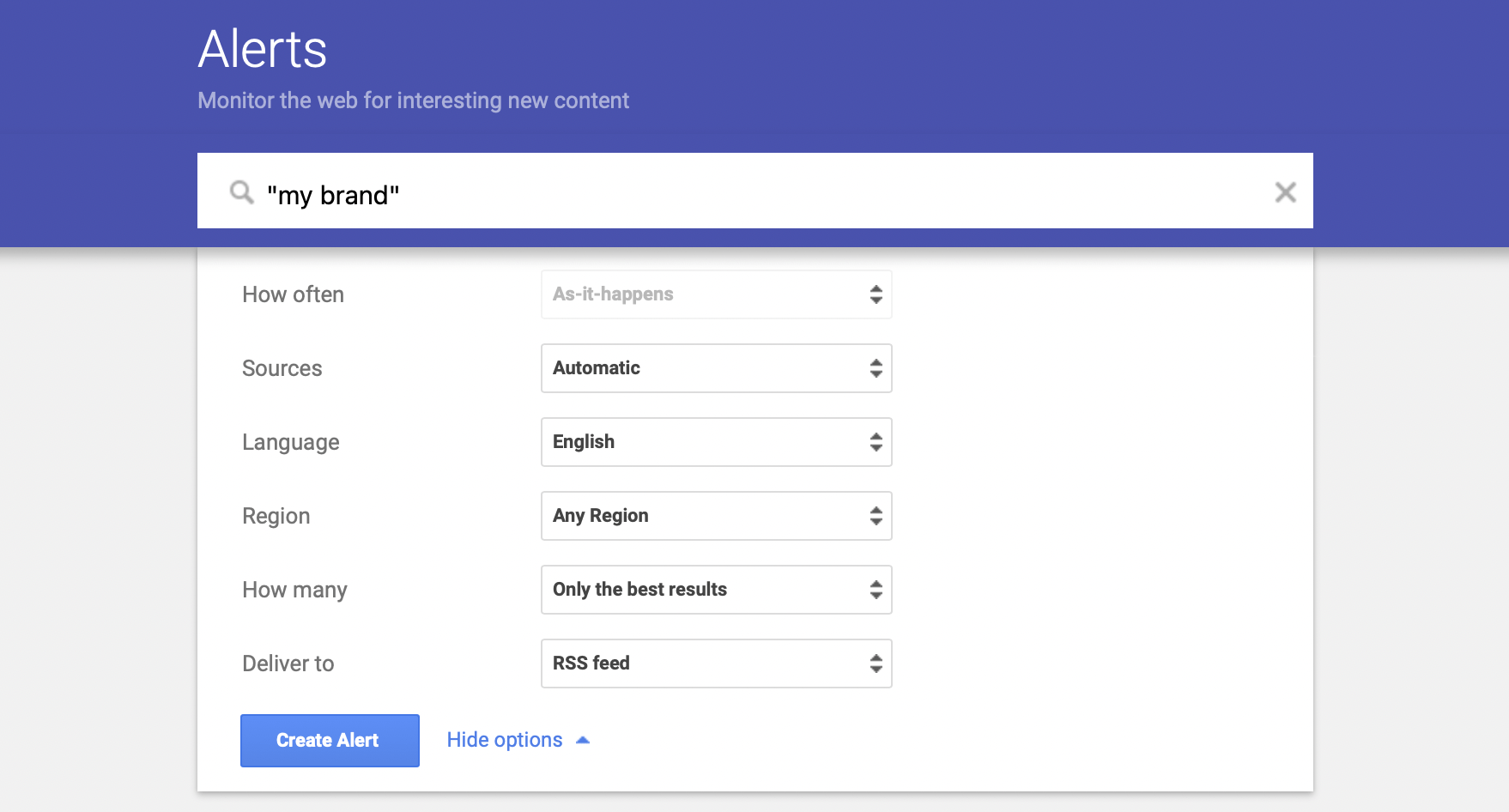 Google Alerts is a social listening platform that allows you to receive media notifications on keywords and topics.
How it works:
First, create your Google Account.
Next, click the 'Create alert' link under the 'Alerts' heading (this will navigate you to a page where you can set up social accounts).
In the dropdown menu for social networks (in this example we're using Facebook), select a social network or list of social accounts that you'd like to monitor.
This social media monitoring platform also offers RSS feeds for each subscription so you can view recent activity from blogs or websites – this feature comes in handy if you want to track social media mentions from an individual blog post or web page.
4. Twilert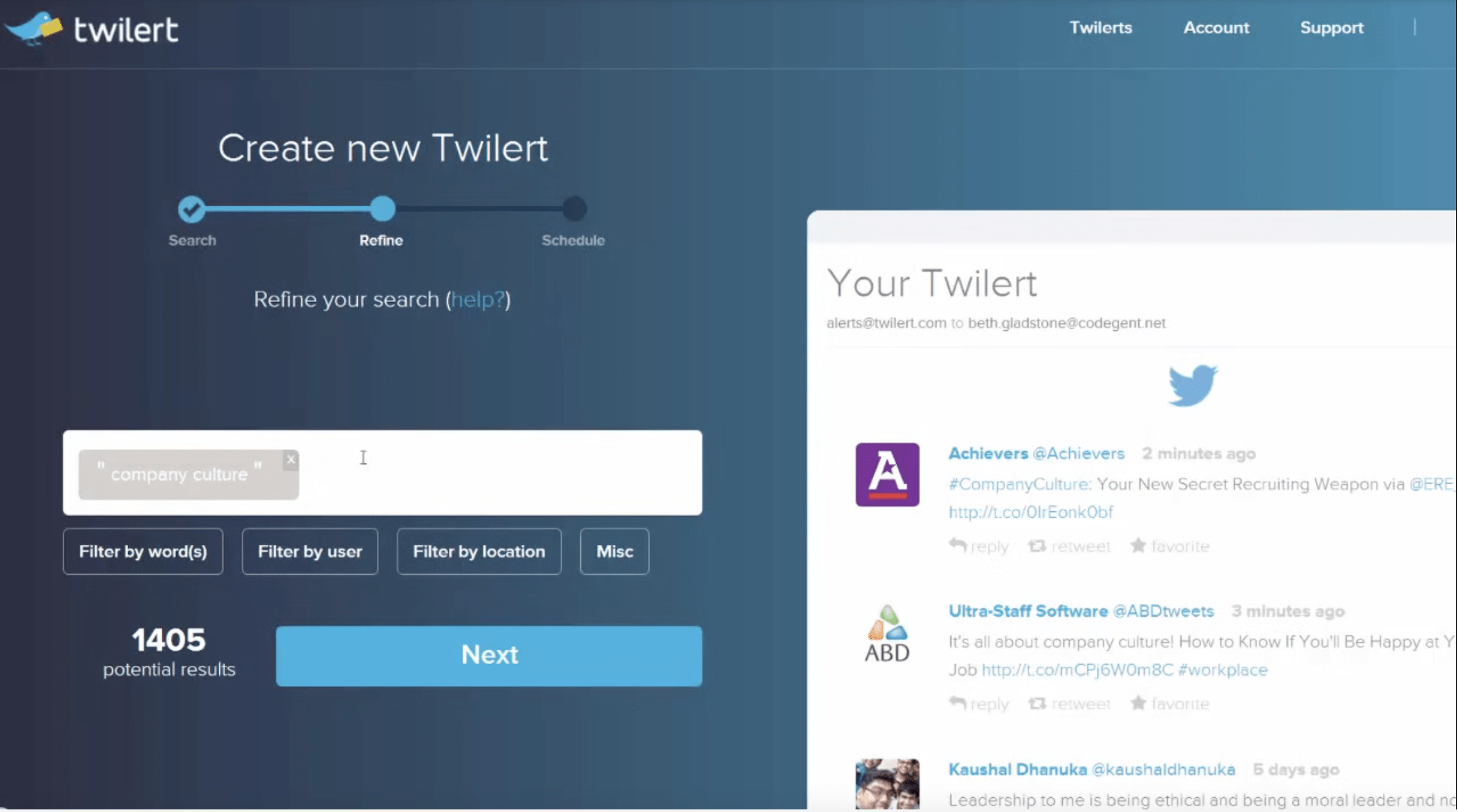 Twilert is social media listening software that sends email notifications when specific terms are mentioned online.
These email alerts help keep you informed of what's being said about your brand or business.
How it works: 
To get started with this social media monitoring tool, first sign up for a free trial and log into the social media listening software.
Next, enter your social network name and social media keywords (separated by comma).
After setting up a keyword alert, you'll be able to configure the parameters for email notifications (which social networks will receive the alerts? Which social accounts will they come from?)  and selecting an email address that you'd like to send them to.
As with many social networks, mention frequency type, social networks and frequency can all be changed as needed.
5. Twitter Advanced Search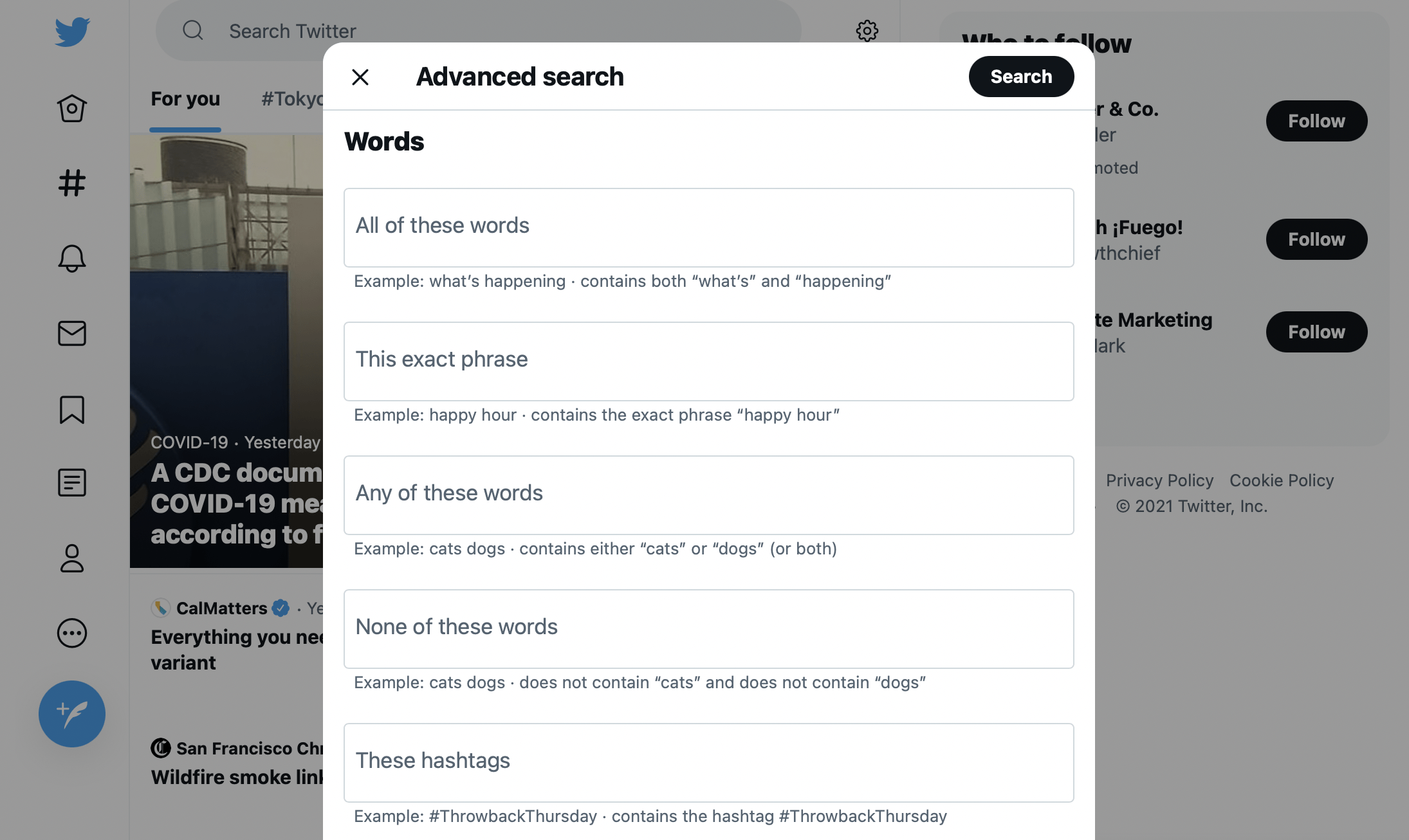 Twitter Advanced Search allows you to find recent tweets containing specific words or phrases.
How it works:
The interface is fairly intuitive – log into your Twitter account, then click on 'Advanced search' link in the top right of the social media dashboard.
Here, you can enter a keyword or phrase that you'd like to monitor (Twitter will only return results containing your keywords). You
Final Thoughts
So there you have it – social media listening tools to grow your business.
Do you use social web monitoring services in your social media marketing efforts?
Let us know what social media listening tools or software you think are best for social media monitoring, tracking and analytics.