10 Best SaaS Books for Founders & CEOs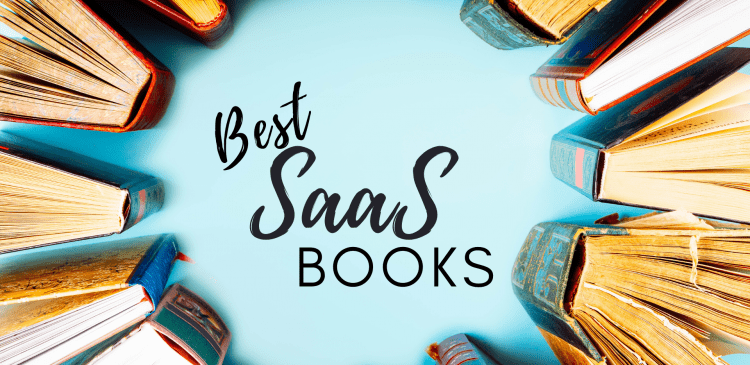 Are you looking for the best SaaS books to help grow your business? If so, you've come to the right place.
As you may know, SaaS (software as a service) is becoming more and more popular for all business owners, founders, and CEOs.
There is plenty to learn regarding SaaS, with new and valuable books published each and every week.
To fast track your knowledge, provide insight, and allow you to gain an edge over your business rivals and competition, we've gathered together ten of the best SaaS books for founders & CEOs. 
10 Best SaaS Books for Founders & CEOs
Author:

Marc Benioff
Have you ever wondered how Marc Benioff grew his software company: www.salesforce.com in record speed in less than a decade?
In this book, Benioff, the CEO and chairman of Salesforce shares insight into his journey. He shares stories from the dotcom implosion in the early 2000s to becoming the leader of the cloud computing revolution.
"Behind the Cloud" is an inspirational SaaS book. It provides an unseen look into the strategies Benioff and his team used to flourish in competitive market of SaaS. 
Author: Rob Bernshteyn 
In this book, Bernshteyn argues that across a whole host of different industries, we will be moving towards a model that he refers to as: value as a service. This model focuses greater attention on the delivery of a service and the value in which is offered.
Essentially, Bernshteyn suggests a shift in all customers wanting to understand the exact value they are being provided and for what cost, regardless of the industry you are operating in.
A great read for visionaries or those looking to get ahead of the game.
Author: Verne Harnish 
Verne Harnish's masterpiece: the Rockefeller Habits was first released in 2002, later winning a number of international book awards.
However, its now been over a decade since the initial release of the best-seller.
Scaling Up is a major revision of Rockefeller Habits. It continues to build on his already expert and practical knowledge for CEOs and founders while focusing on major decisions they need to make.
Harnish suggests there are four major decision categories you need to focus on when scaling up. These include: people, strategy, execution, and cash.
Author:

Ann Handley 
Ann Handley presents a go-to guide to creating content that will allow your business to thrive.
In this informative book, Handley dives into the world of stellar communication, showing us how to retain audience attention, dominating both the off-line and online space. Whether on your website or on social media channels such as Facebook, Instagram, and LinkedIn, you'll learn different content strategies. 
Handley argues writing is now more important than ever, especially with so much content out there.
This guide teaches you how to stand out from the crowd – landing new clients, transforming your business, and winning your audience over with the power of the written word.
Author: Steli Efti
Efti argues giving successful product demos is easy, so long as you have the required template and knowledge.
In this no "BS" guide, as Efti calls it, you will learn why your demos fail close to the deal, how to improve your demo win rates, and how to expertly handle demo bugs and fails.
Author: Gabriel Weinberg & Justin Mares 
Traction will teach you the nineteen different channels required to build a custom-base, presenting a simple to understand three-step framework to figure out which one works best for your business.
The underlying argument here is that most start-ups fail not because they can't build a product or provide a service, but they cannot gain enough traction to stay afloat.
Authors: Peter Thiel & Blake Masters
No "Best SaaS Books" list is complete without Peter Thiel's infamous "Zero to One." This book contains invaluable notes on startups, and why we shouldn't copy those already successful, from the Bill Gate's to the Elon Musk's, we must learn from them – not copy them.
This is your ultimate handbook to standing out from the crowd and providing value to others, regardless of your current industry.
"This book delivers completely new and refreshing ideas on how to create value in the world." -Mark Zuckerberg, CEO of Facebook
Authors: Aaron Ross & Jason Lemkin 
This book from Ross and Lemkin is a clear guide on how to achieve hyper-growth for your business. Answering many questions regarding why you are perhaps struggling to achieve growth currently, to your plan on how to triple your revenue.
From "Impossible to Inevitable" shows how SaaS and other companies create this hyper-growth, and how you can too – taking knowledge from those best in their industries and applying it directly to your business.
Author: Jerome Ternynck
Ever wondered how to hire the best people? With over thirty years of recruiting experience and as a current SaaS owner, Ternynck provides insight on how to guarantee you're hiring the best of the best – not second-guessing your recruiting.
A must-read for those looking to scale their business – hiring the right people and taking the leap to expand their business growth.
Author: Remy Gendron
Our tenth and final SaaS book recommendation is from Remy Gendron.
This book covers a variety of topics within the saturated world of SaaS, including:
cultural business transformation

phases of creating and evolving SaaS products

technology as a commodity, and

execution.
This article has provided ten of the best SaaS books to grow your business. 
From award-winning authors and experts in their fields, these books are well worth a read. Let us know how you get on in the comments below.