10 Customer Feedback Examples from Famous Companies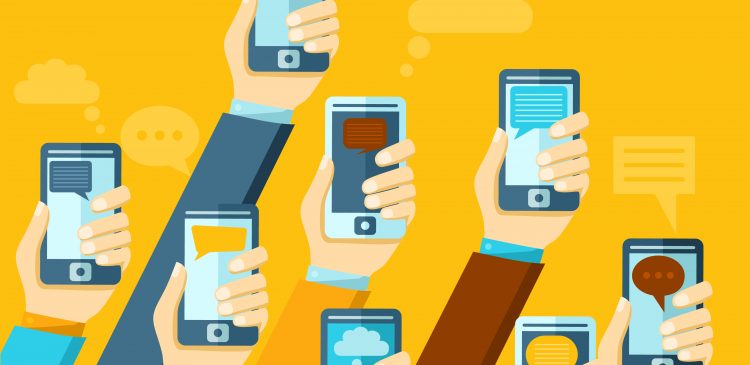 Are you looking for customer feedback examples to implement in your business? Then you've come to the right place. All of the world's most successful businesses have one thing in common – they place a high value on customer feedback, and make sure the feedback they receive shapes up their business model. In fact, according to PwC, more than 75% of business employees believe that feedback is incredibly valuable for any business. 
In this article, we break down 10 customer feedback examples from some of the most popular companies.
10 Customer Feedback Examples from Famous Companies
1. Apple's Product Feedback
Be it Apple's phones, laptops, watches or desktops – Apple marketers truly operate like mind readers of their loyal customers. They've managed to have impressive longevity with their products' success – and customers still don't seem to get tired of buying them. Why? Apple has made product feedback a major priority.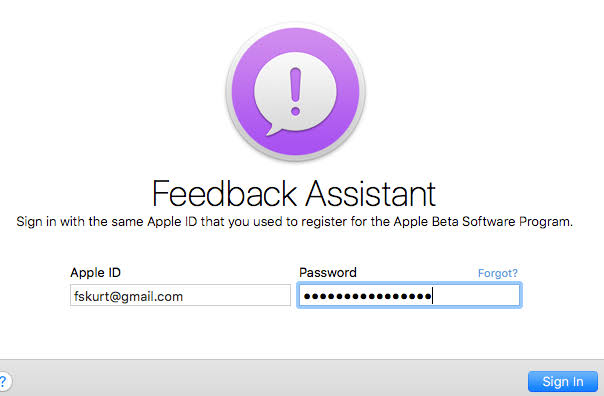 Amidst other ways, Apple collects customer feedback through the Net Promoter Score (NPS) system. The NPS asks customers a simple question; How likely are you to recommend this business to a friend or colleague?
On the scale of 1 to 10 – users who rate Apple anywhere lower than 6 are considered unlikely to recommend them. On the other hand, 7 to 20 ratings are from people who are are most likely to recommend their business. 

A positive NPS means most of the customers are happy with their business. But a negative score entails that Apple dig deeper and find out what they need to do to improve customer satisfaction.
2. Uber's Real-time Customer Feedback
No list of customer feedback examples is complete without Uber's real-time rating system. Uber is widely known for how much it emphasizes that its drivers be given ratings. In case the drivers are constantly getting rated poorly – they'll get in trouble with the car sharing service.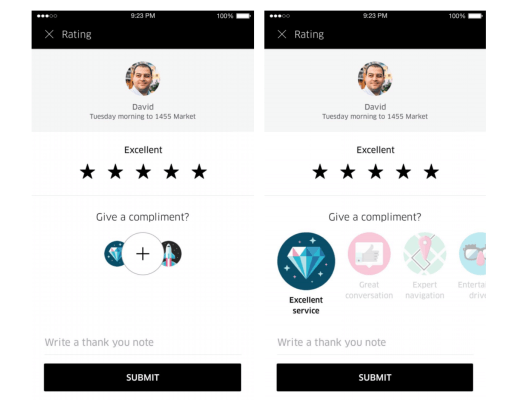 With a simple tap on the mobile app, users can rate their driver anywhere from 0 to 5 stars – and also add remarks if they want. 
Uber's website says:
"Real-time feedback about drivers means Uber can correct for issues big and small – while ensuring that only the best drivers stay on the road. We take this feedback seriously – depending on the circumstances, rider feedback may lead to deactivating a partner from the system or serve as validation that the driver is providing great service."
3. Starbucks' Ideation Upvotes
One of our favorite companies that uses customer feedback is Starbucks. The company successfully uses technology to engage with customers, hence adding value to their experience. Starbucks has launched many successful campaigns, and introduced new items on the menu, that were heavily influenced by customer feedback.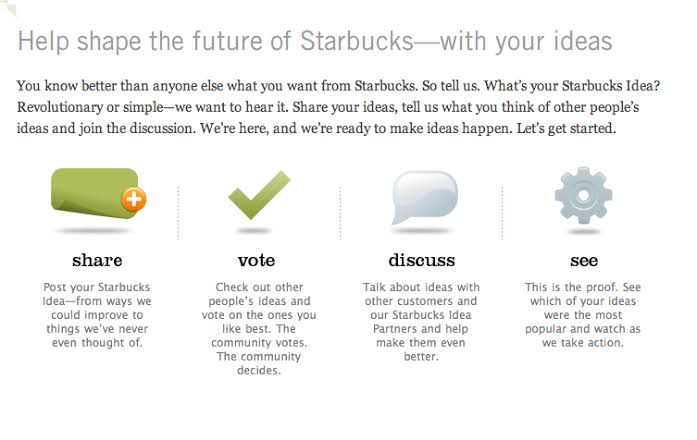 To provide product feedback, you can chat with Starbucks representative on the official website, or send an email detailing your experience. This way, Starbucks collects valuable ideas from its customers and acts on the ones that really matter.
4. Hyatt's New Brand
Hyatt is well-known for delivering great customer experiences. The hotel chain has always stayed connected with what their users want. In fact, they've built their entire brand influenced by customer feedback.
"This was the first time we focused on consumer feedback in developing a brand. In effect, we learned how to design the hotel by responding to the needs of consumers as they described them to us," Kearney said.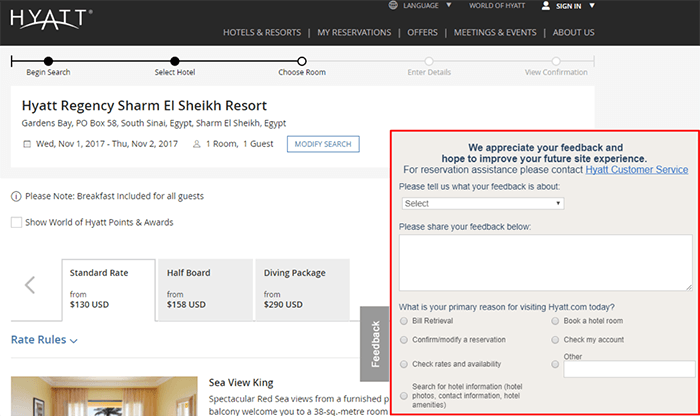 The multinational franchiser uses two main channels to collect feedback from customers: a feedback form on target pages and social media.
Through the power of social media, customers get to share beautiful pictures of themselves in Hyatt's properties on social media, while Hyatt received some valuable product feedback. It's a win-win for all!
5. Dell's IdeaStorm Page
This giant computer brand has seen the whole internet against it when users have been left dissatisfied by their products. Had they been listening to customers before, they wouldn't have received the wave of backlash.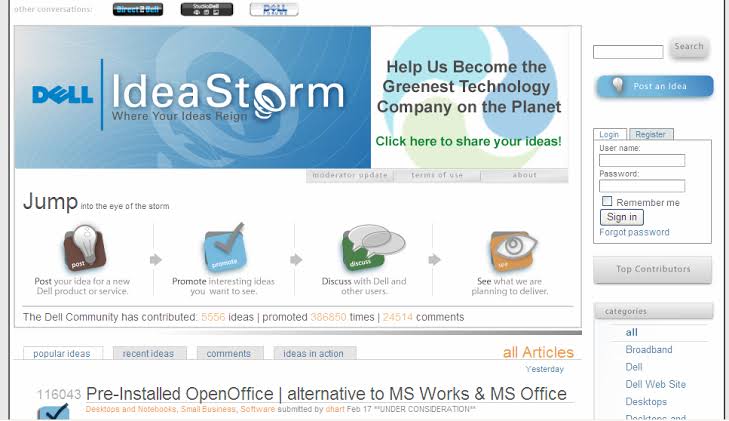 Of course, Dell has now learnt from those situations. In fact, they began to take customer feedback so seriously that they built a different website just for Dell users to leave complaints and reviews. Here, the reviews that receive the most votes and comments become prioritized, and are taken seriously by the company. 
6. Timberland Teams Up
Timberland is the footwear brand in the fashion industry. The brand decided a long time ago that customer feedback had to be a priority. They teamed up with global retailer VF Corp, and collected customer feedback from around 20,000 buyers in 8 different countries.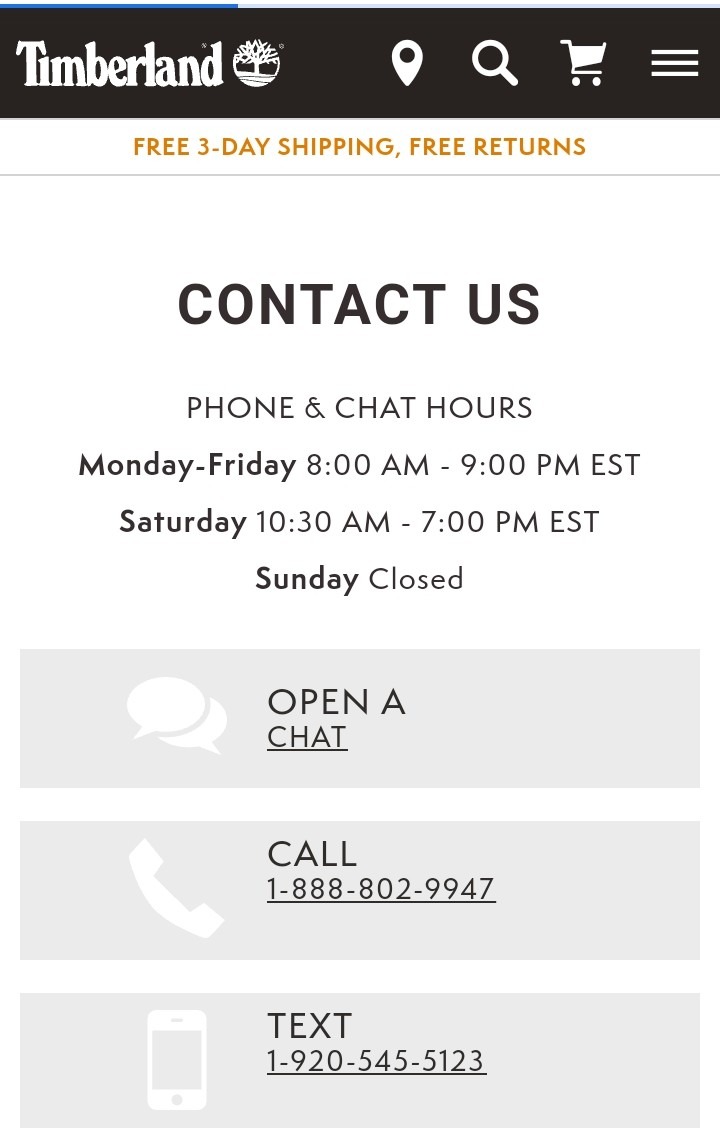 Now, when you shop at Timberland, you're encouraged to leave a review on what you purchased. Moreover, Timberland encourages customers to leave feedback via a button on the right side of their website. 
7. SiteGround's Live Chat
One of the most popular web host providers on the Internet – SiteGround has made sure to never get too complacent with the way they handle user feedback. The website provides 3 different channels through which customers leave feedback 24/7: phone, tickets and live chat; When you're done chatting with a rep and close the chat window, you'll be asked to rate your experience with the rep too.

8. Deezer's Forum
Another great customer feedback example is Deezer, which is arguably amongst the top 5 most popular music streaming sites in the world. The company, launched in 2007, has more than 16 million active listeners.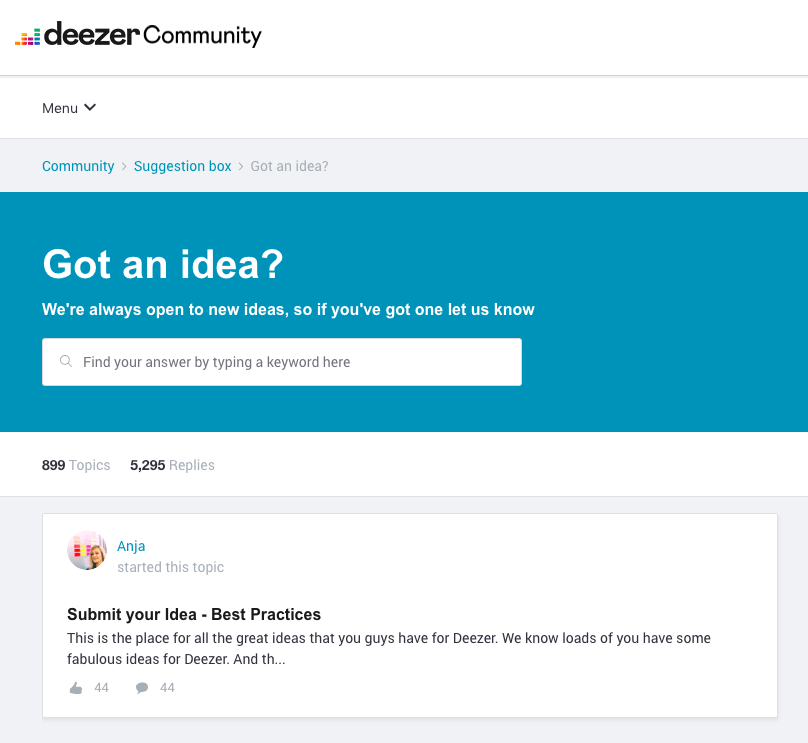 Seeing the immense value of customer feedback, Deezer launched the Deezer Community to always stay updated on what users have to say about them. This Forum was created with the aim of having consumers talk to one another about music, as well as any issues they're having with the service. This way, the company has launched a community where customers keep each other engaged, and Deezer gets to track their product feedback. It's a win-win for everyone!   
9. Best Buy's Customer Feedback Incentives
Out of all the customer feedback examples, Best Buy's might be the most unique. As expected from such a successful business – Best Buy uses a number of channels to collect customer feedback, but one that really stands out is the Best Buy Reward System, whereby people leave reviews about its brand after making a purchase are rewarded with bonus points!  Once you purchase an item on their site and leave a review, you get rewarded with bonus points.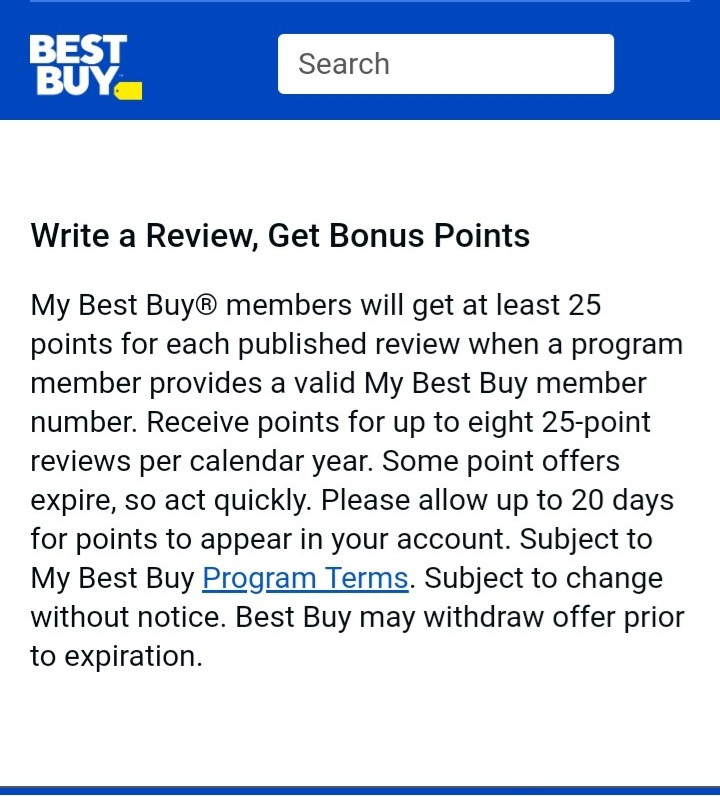 The 25 points scored through each review can be redeemed next time you're making a purchase at Best Buy. Who doesn't like freebies! This is a brilliant way to incentivize customers to leave feedback, and keep in touch with what they're saying. 
10. Nordstrom's Customer Feedback Survey
Last but not the least – top fashion retailer Nordstrom is also very well-known for always keeping in touch up-to-date with their customer demands. They employ several different channels to collect data from their customers. One of them is the Innovation Lab. This lab was invented as a way for Nordstrom employees to encourage employee input on how Nordstrom can serve the public better.
Another important feedback used by Nordstrom is a form that pops out right in the middle of your screen when you've spent some time on their website.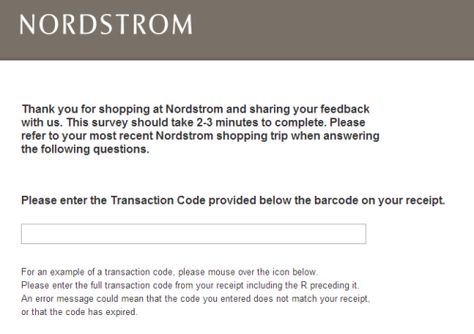 With the help of these means, Nordstrom is able to seamlessly collect information from customers, and take relevant measures to keep their loyal clients satisfied! More than 92% of business employees believe that even negative feedback from customers can make a positive impact on a business.
So there you have it, 10 customer feedback examples from famous companies. If you happen to own a business that's falling out of line with customer feedback – make sure to implement new strategies that help you collect valuable feedback. It's the only way you'll be able to succeed in building a customer base!