17 Customer Feedback Statistics You Need to Know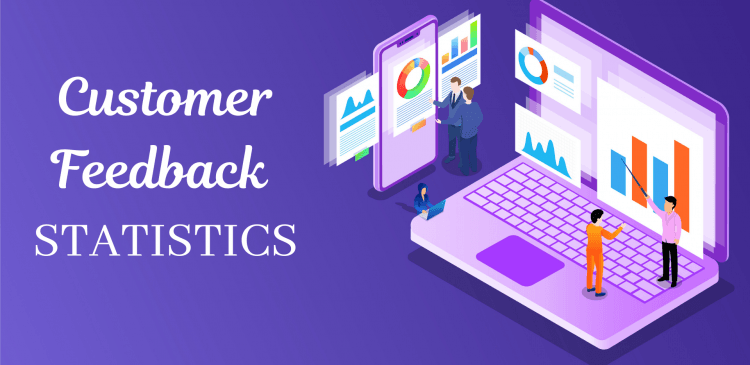 Are you looking for the latest customer feedback statistics? If so, you've come to the right place. Business progress and product differentiation depends on the feedback it receives from customers. That means it is important that you stay up to date on the latest customer feedback statistics that will help you improve communication with your customers. 
In this article, we'll give you 17+ customer feedback statistics to give you a better understanding of where your business stands and where you can improve. 
17+ Customer Feedback Statistics:
Most customers don't voice their complaints.
Only

one out of every 26 customers

is likely to bring up their complaints. The other 25 customers will simply take their business elsewhere without a word. This means that it is important that you let a customer know they have a voice and that you will listen.

Every complaint ignored is 26 customers lost. There are many other ways to get customer feedback that don't rely on direct contact, such as feedback surveys. 

Customer feedback surveys

are a simple and easy way to obtain feedback from your customers, you simply ask them to fill out an online form and then you go through the results. 
The average person can become distracted in just 8 seconds.
If you want to hear what your customers have to say, you have to be able to catch their attention within a short period of time. Using quick and simple survey questions that cut to the chase and draw their attention is how you obtain the feedback you need.

Most customers don't feel like filling out long, tedious surveys. Simple, direct questions and surveys limited to only a few questions long are how you will be able to receive the most feedback.

There are sharp increases in drop-off rates that occur with each additional question insurveys. According to SurveyMonkey, the longer the survey, the less time respondents take answering each question, which can make answers less accurate.

Social Media is one of the greatest mediums for customer feedback.
According to Sprout Social,

47% of customers

with a product or service complaint will voice it on social media. Having a presence on social media platforms will increase your chances for receiving feedback.

In 2018 it was estimated that there are at least

1.7 billion people active on social media

and that number is still rising with new platforms popping up every year.

Tweets with images attached, on average, receive

up to 18% more clicks

than ones without images. If polling your followers for feedback, it is very important that your tweet can draw their attention with a captivating image, otherwise, they will continue to scroll without noticing.
More and more people deliver feedback from mobile devices. 
Whether it's filling out a survey or writing a review, much of that information is coming from a mobile device. So in order to reach out to as many customers as possible, surveys, emails and newsletters should be formatted in a way that is pleasant for mobile users.

According to Upland Adestra, 62% of email opens occurred on mobile devices.

However, people don't click-through as much on mobile as they do when they're on PC. In an

article

reviewing a study performed by Pew Research Center, it states, mobile and tablet users only make up 27.8% of the links clicked, while people on PC made up for the remaining 72.2%. This means that mobile users are more selective about where they focus their attention.
Compact titles with compelling visuals can help draw in the attention of mobile users and shortened emails deliver much higher response rates. Formatting emails to look better inside of a mobile inbox is another way to get more responses.
Feedback surveys are important for business growth.
A 2015 study conducted by Market Force showed that

83% of all consumers

had completed at least one survey in the past year. Out of those who completed more than one, most of them had completed several surveys within a short period.

According to FluidSurveys, the response rate for an email survey

is roughly 24.8%

. So it can be expected that one in four people will fill out a Feedback Survey sent through email.

The channel with the highest response rate turns out to be an SMS text code, with a response rate of around 40%. An SMS survey can be filled out very quickly and the data can be easily collected.
The importance of product reviews.
In an

article

about customer service, it was stated that young shoppers, typically aged 18-24, on average expect at least 200 product reviews. It is important that your reviews are publicly visible if they're to have any chance at bringing in new customers.

Buyers require an average of at least 40 online reviews before believing a business's star rating is accurate. 66% of customers stated that they're more likely to trust a brand with many reviews.

Young customers are 99% more likely to rely on online reviews than any of the older generations. The best way to target the younger generations is to communicate with them through social media and online reviews.
Most Consumers have stopped doing business with a company due to poor service.
In a study performed by

NewVoiceMedia

, it was discovered that 58% of people will never use a company again after just one bad experience. It is your job to the client to go above and beyond to meet or exceed their expectations.

82% of consumers have taken their business elsewhere due to poor service.

Only 1% of all consumers feel that their expectations are always met. 
Consumers are willing to spend more on companies that provide good service.
Once a consumer knows that a company can reliably provide good service; they are likely to continue coming back and may even pay more than what competitors offer.

In fact, 86% of customers are willing to pay up to 25% more for a better experience, according to

RightNow Technologies

.

Earning loyal customers is important to provide a stable future for any company.
Online reviews are the most important factor for local search engine rankings.
Online reviews that contain certain keywords and phrases can expand your online territory. This means you're more likely to show up in search engine results and get more customers.

According to a study performed by

LocalSEOGuide

, Google uses reviews to order search results, as it is likely that hot or trendy are likely to skyrocket in terms of reviews before other traditional ranking factors.

Reviews don't just give you feedback that can help improve your service. They can also grow the size of your business by growing your online presence.
So there you have it, 9+ customer feedback statistics to help you with your business strategy. Did any of the customer feedback statistics covered in this article that surprised you?