Top 7 Reasons Your Customers Don't Provide Feedback (and what to do instead)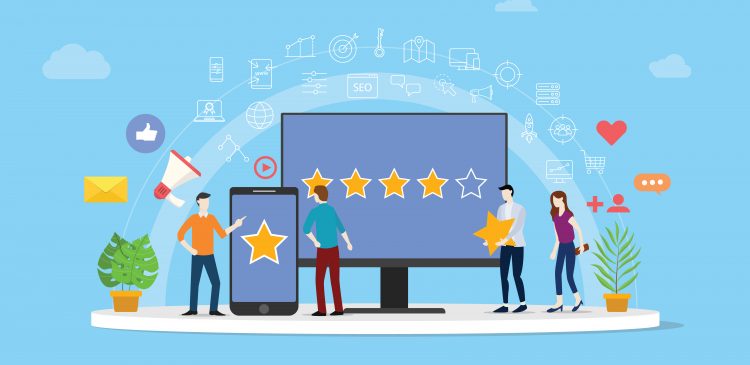 One of the most important things for companies to get a grasp on is customer feedback. After putting in all the effort into creating a product for your consumers, you need to know how satisfied they are with your current offering. What better way to find out than getting product feedback directly from your customers?
Many companies might think that their customers are happy and satisfied if they're not receiving negative feedback. However, that is not the case. In fact, according to Esteban Kolsky, only 1 in 26 unhappy customers will complain.

That is why it is always a good idea to find out the best ways to get your customers to provide feedback on your products. Here are some of the top reasons why your customers may not be providing feedback (and how to change that).
1. Your customer feedback survey is too long
If your customer feedback survey is too lengthy, your customer will grow tired and stop and stop answering questions. An extensive survey may lead to a high abandonment rate. SurveyMonkey analyzed 100,000 surveys that were 1-30 questions long. What they found was that the more questions you ask, the faster the respondent will answer which could cause the data to suffer.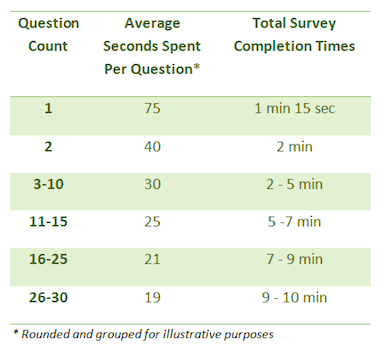 What to do: Only ask questions that are important to your business. If you are struggling finding questions to ask or don't know where to start, we have compiled a list of popular feedback questions to ask your customers.
You want to make sure you are asking questions that will help you take your product to the next level. Ask them what you could do to better improve and enhance the experience. Figure out what you need to know most and ask those questions first.
2. Your customer feedback emails are too formal
If your customer feedback email is too formal, the customer may be too intimidated to reply or might just think that the email is spam. Don't make your email look like a generic marketing email or you risk them ignoring it.
What to do: Have the email come from an executive in your company, like the CEO and make it casual. Say that you're checking in and would appreciate some feedback about the product. From there you can ask them one open ended question that they can simply reply to or ask them to complete a short survey with a link to the questions. Make sure your email gets straight to the point.
3. Your product feedback popups are annoying
If you annoy a customer with your popups for surveys, they may close out of the popup without ever reading it – or worse yet – leave your site. This may happen if you show the popup too soon.
What to do: Instead of having popups appear at any time, you can have them only appear before the customer is about to leave the site. Take a look at exit-intent popups, slide-ins, or sticky headers to make your popups more polite.
4. You haven't asked them
If you never ask your customers what you are doing wrong, how are you supposed to fix it? The easiest way to find out if you are selling a product that is worth your time is to ask the people who are buying it from you. There are many simple ways to get feedback from your customers, and if the surveys are easy to fill out, most of the time the customer will provide it for you.
What to do: Most people are on their phones for most of the day, so create a simple, uncomplicated, short survey to ask for product feedback. You can add this survey to your website or send it by email.
5. You are not taking advantage of live chat
Another super simple way to get feedback from your customers is by utilizing live chat. If a customer is on your website and has an issue or question, live chat is the easiest way for them to contact you and get through immediately. It creates a no hassle function that customers can easily navigate.
What to do: Create a live chat for your website and hire people that can work at it through at least the morning and evening. This will be an easy place for customers to go to if they need anything taken care of immediately. You can also have an automated survey at the end of each live chat interaction to get feedback on the customer service experience as well as any ideas that they have to help you improve the product.
6. Your emails are going to spam
There are multiple reasons your emails could be going to spam. But, there are also many ways to ensure that that is not the case.
What to do: Create a good subject line so that your customer opens your emails more often. Make sure your branding in your emails matches your website, such as color and images. You want to make sure the customer recognizes you. Lastly, do not use spam trigger words such as: cancel at any time, click here, congratulations, etc. You may also want to enable 2-Factor authentication to increase the likelihood of landing in their inbox.
7. They are not an active user of your product
If your customers are not active users of your products, it can be hard for them to leave user feedback, because they are not sure what they do and don't like. It is especially hard if they are a new customer.
What to do: If you have a new customer and they have not returned after buying one product, leave coupons for them in their emails. If a customer hasn't returned in a while, coupons are always a good way to go. Another good way is to keep the customers involved, keep telling them about the amazing products you have to offer.
There are so many ways to reach out to your customers and receive product feedback from them. Whichever approach you choose to use, finding the best feedback strategy for your personal development and task force is important. Figure out what works best for you and implement it with confidence.