How to Create a Competitive Landscape Analysis (Step by Step)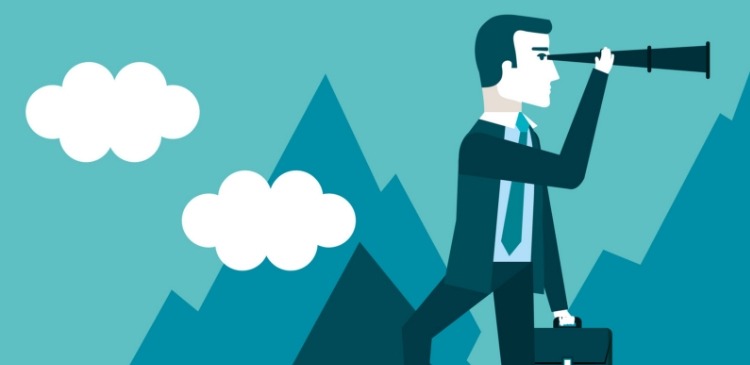 Some companies operate on the belief that competitive pricing alone will generate strong market position. However, modern consumers are willing to pay differently based on perceived need, quality, and the brand's reputation. How do you know your company's competition compared to your competitors? Completing a competitive landscape analysis provides the information you need to leverage your company's strengths instead of engaging in price wars.
Historically, only large companies have been able to complete effective competitive landscape analyses because they had access to expensive resources. However, today's technology allows even small businesses to complete them in cost-effective ways. In this post we will walk you through how to complete a competitive landscape analysis and recommend tools to get the most accurate information.
What is a competitive landscape analysis?
Before discussing how to complete a competitive landscape analysis, let's clarify what it includes. A competitive landscape analysis is a way of identifying and examining your rival's product offering, social media content, and marketing strategies to improve your own business.

Why do you need a competitive landscape analysis?
There are several benefits for completing a competitive landscape analysis. First, it helps you delineate how you differ from your competitors and to better communicate differences to customers.
Second, once you've completed your analysis, you will be able to target marketing and sales to accentuate where you outperform your competition. You can better market to your target audience as you become aware of the perceived shortcomings of your competitors.
Third, it can help you develop a strategic mindset as you learn to evaluate not only your direct competitors, but also your secondary and even tertiary competitors from around the global marketplace. As you get to know your competitors, you can begin to anticipate their strategies and stay one step head. You can also identify potential partnerships and ways to expand your product offerings.
Competitive landscape analysis example
Let's use Starbucks as an example to illustrate the competitive landscape analysis process. To begin, they would categorize all of their products and services. Obviously they sell coffee-based beverages, but they would also include tea, hot chocolate, café food and pastries, coffee mugs, music, and whole-bean and ground coffee in grocery stores.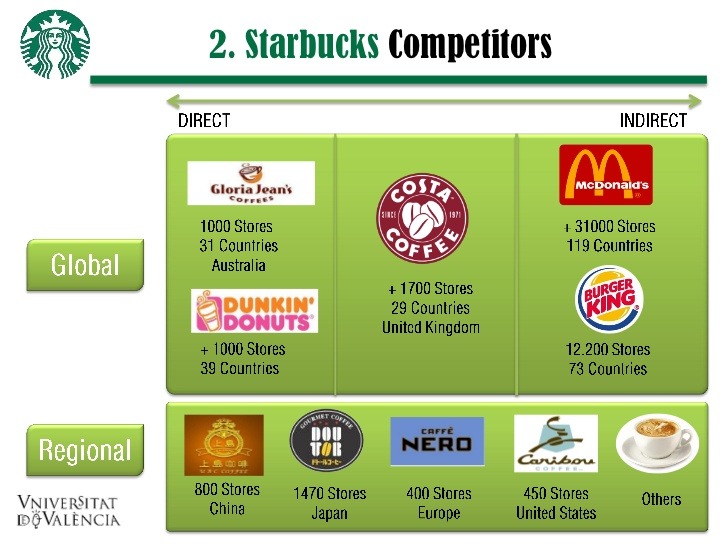 After sorting their products into categories, Starbucks would identify major competitors in each category and research each company for price, target market, social media content, blogs, newsletters, recipe posts, and any other attempts to connect with their customers. Finally, they would create a competitive matrix to distill the data into useful information.
With all of the information they've gathered, they can begin to think strategically about areas for growth in their marketing, product offerings, social media interactions, and processes within their stores. They could also look for more partnerships to expand their market share, such as their recent partnership with Nestlé to expand their global offerings.
Steps for creating a successful competitive landscape analysis:
This process can seem overwhelming as you begin to cultivate a list of competitors and potential competitors, especially in larger organizations with multiple products and target audiences. Your goal is to become as familiar with other companies' business strategy as possible. Let's look at each step more closely to help you complete a successful analysis.
1. Create a Competitor Content Analysis
You can begin by searching Google for top results in your identified categories. However, for your landscape analysis to provide powerful information, you should rely on more than Google searches. You can use a tool like SEMRush to find out who's linking to your competition and what keywords they're ranking for in organic internet searches.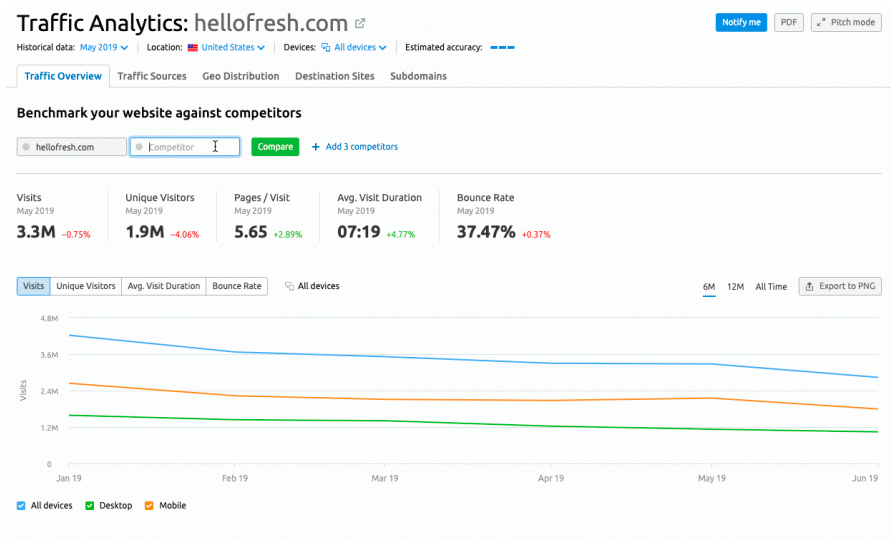 Content analysis can also include looking at a company from a customer's perspective in the following ways:
Signing up for competitors' blogs or mailing lists to see what messages are being communicated to customers.

Searching for products and purchasing something from their website to see the customer's experience or placing items in your cart without buying them to see their follow-up process for incomplete purchases.
Looking at their website's layout,, the quality of their graphics, and product descriptions.
Evaluating their mobile site  or app for usability and responsiveness.
2. Social media monitoring
It's important not only to monitor your own business on social media, but also your competition. Pay attention to the hashtags they use and the type of content they produce. Find out how their engagement is compared to yours and get ideas on how you can improve. Instead of manually tracking your competitors, you can use a tool like SocialPilot to track your competition across multiple social media channels. 
When analyzing your competitions' social media strategy, consider finding them on LinkedIn to learn who's on their strategy team. Knowing where new hires are located can give you insight into where the company is moving or growing. Social media monitoring allows you to react in various ways:
Share positive comments about your business on your website or social media outlets.

Reply to blog posts or comments to engage with customers
Answer questions that customers are asking on social media
Use common questions asked about your brand online to strengthen your marketing and training materials
Identify the people who share your content and mention your brand.
Anticipate which markets competitors are interested in
3. Create a Competitive Matrix
To organize your findings in a useful way, create a competitive matrix and record the information you have gathered. First, identify the key features that are important to your customers, then rank yourself and your competitors in each category. Once completed, use the matrix to identify where your company stands out and highlight those features for marketing and sales training.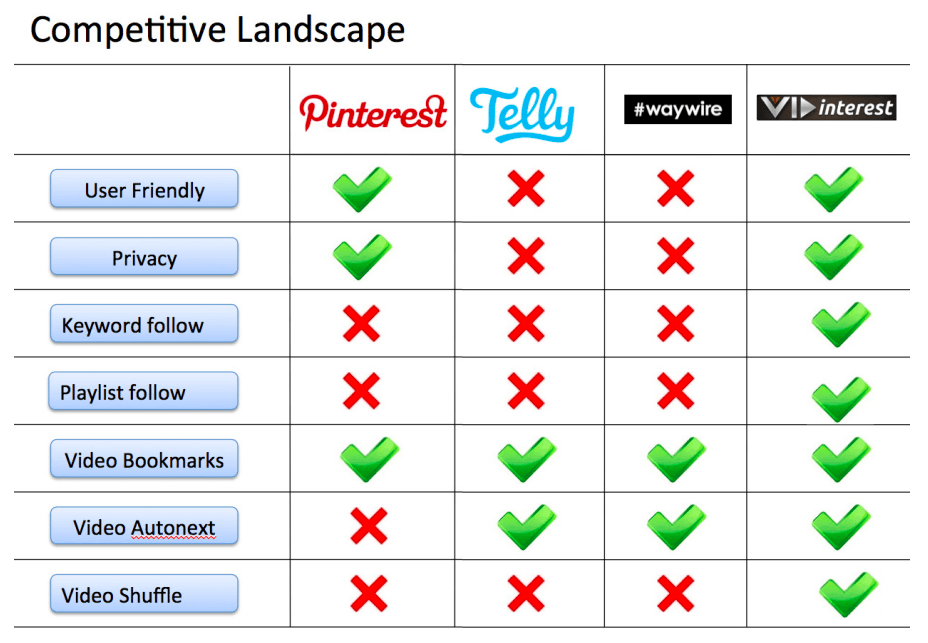 If necessary, use the information to develop ways of training your customer to better understand how to use your product. Seek opportunities to improve your business decisions and social media interactions to increase revenue and market share.
Conclusion
Continually monitoring competitors encourages you to continue thinking proactively and making strategic moves based on how customers respond rather than reacting. Using tools mentioned above can help you systematically gather meaningful data and keep you aware of how you compare with competitors. Armed with this information, you can confidently move your company forward.