Understanding Customer Needs: 10 Tips to Exceed Expectations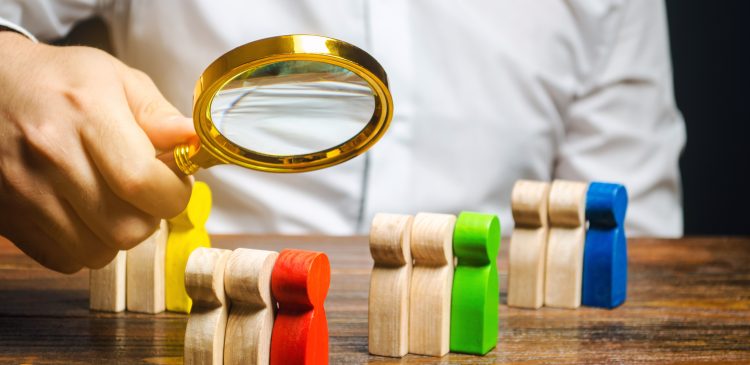 Understanding customer needs doesn't need to be difficult. You just have to put yourself in their shoes. How would you want a company to treat you? What do you expect when you do business with a company? 
While you might have a great product, you need to constantly be thinking about how people are using it and how you can improve your product or service. 
After all, your customers are the lifeblood of your company. And whether you like the thought of it or not, they can make or break your company.
This is why understanding your customer needs should always be your major priority. In fact, mastering customer experience can be the single most vital metric.
In this article, we've got 10 tips for helping you understand your customer needs, and the tricks that can help you to show why your business is the only solution for their problems. 
What are customer needs? 
Every customer is different, but they all have some of the same basic needs. In fact, there are 4 needs that every customer desires. Those are: a fair price, a quality product or service, choice, and convenience.

Understanding Customer Needs: 10 Tips to Exceed Expectations
1. Be consist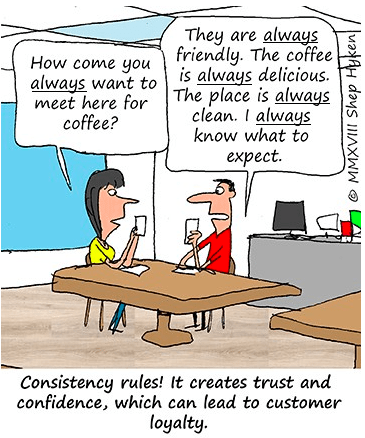 Have you ever spoken to a sales rep who has assured you that a product can do a, b, c, only to find that the product does, x, y, z? 
It happens more often than any company can be comfortable with, and it sets the message that your business is disorganized.
The same can be said if you offer different pricing, or have contradictory information on your website.
Consistency is key when it comes to meeting your customer needs. The good news here is that consistency also breeds consistency.
Ensuring that you have consistent internal communications is an essential step in making sure your business is operating with the customer in mind. If you want to effectively convey your values, product, and services, your first step is to make sure that every department understands the company's goals and values.
Consider using a freemium tool like Slack for better internal communications and daily briefings. This will ensure that everybody from the remote sales team to the dev team understands what your business priorities are.
2. Ask questions
Do you want to better understand customer needs? 
Then don't be afraid to ask them questions.
Put yourself in a place of being open and receptive to customer feedback so that you can continue to improve your business and exceed expectations.
Consider being proactive, rather than waiting for complaints. Send out customer surveys, interviews, social media polls, or factor it in as part of your email marketing so that the customers are aware of how much you care about their needs.
For example, Sittercity provides customers with a chance to win a gift card for taking the time to fill out their survey.

3. Open communication
If you want to meet and exceed customer needs you need to have transparency and open communication. When your customer subscribes to your product, they are doing so with the wide-eyed hope that you can make their lives easier and better.
This hope can be quickly dashed if you fail to properly prepare your customer for what they'll need to do. From customer on-boarding and setup to understanding features, it's crucial to make sure you are communicating openly with your customer.
4.  Prioritize needs
This might sound redundant, but you'd be surprised. 
In order to better meet and exceed your customer needs, you need to prioritize. With the finite amount of time, team, and resources, you're not going to be able to be all things to all people.
Instead, you're going to need to prioritize customer needs based on any number of factors – from the cost to the lifetime customer value.
Ultimately you may find that this turns certain sections of the market off from your business, but you'll find that it actively entices others.
5. Keep track of activity levels 
Rather than waiting until a customer is ready to cancel their subscription in order to be able to help them, keep track of who is and isn't interacting with your service.
This is a great way to ensure you understand how customers are interacting with your service and can help you to create resources for getting people through any challenges that they might face.
For example, SpyFu does a great job sending "Subscriber Tutorials" emails to ensure that subscribers are using the service to the fullest extent.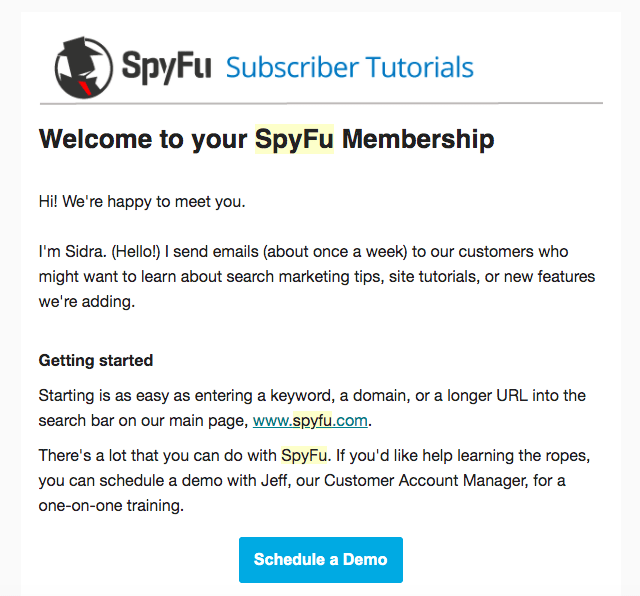 6. Breakup nicely
Sometimes it's not you, it's them. But sometimes, it's very much you.
When a customer has canceled their subscription, it's worth reaching out to them to ask why. After all, to fully understand what a customer needs, it's good to know what it is that you're not offering.
Does that mean you have to act on it? Absolutely not. But it's a good way to see if there's a solution you haven't considered yet.
For example, RawSpiceBar does a good job of following up with customers and getting feedback to better improve their product.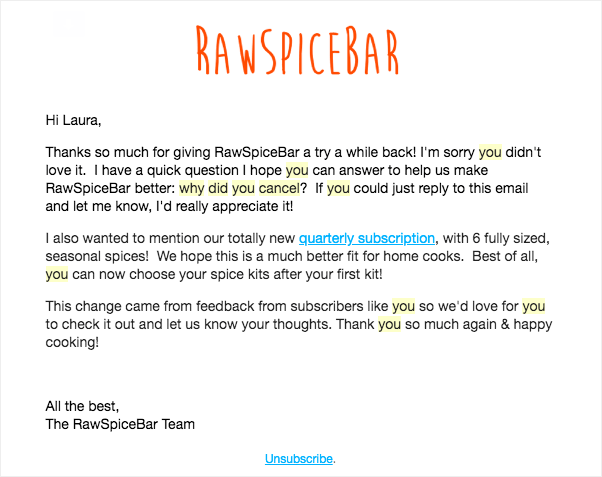 7. Nurture relationships
The thrill of a new customer relationship is as exciting as any new relationship. But one way to really understand what you do well, how to improve, and how to stand out in the market is to nurture the relationship you have with your existing customers.
Relationship building is a strong way to prevent customer churn, as well as encouraging their engagement with your product and business as a whole. 
Dedicating time and resources to keeping track of how your existing customers are doing and what new pain points they might have will help you to retain existing clients, as well as better prepare you for serving new ones.
8. Understand customer journeys
In order to understand the needs of your customers, it pays to consider their journey. 
Knowing what they're doing, and why they're subscribing to your service is a great way to ensure that you can keep meeting their needs.
Check-in with your long-term subscribers and see how their interaction with your software has changed. Build on your relationship nurturing by tracking their journeys through your software, and their relationship to your software through their career.
9. Measure metrics
Often, the cold hard numbers will tell you everything you need to know about your business. 
Examine your churn rates, your engagement, your NPS, your average reviews, and you're more than likely going to find out what customer needs you are (or aren't) providing.
10. Invest in your customers
Remember that the customer is the essential part of your business. Make sure that alongside all of your development and marketing skills, you're spending the time and money on training a world-class customer service and experience team. 
You can do this by investing in 24/7 customer service, live chat, and most importantly – educating your team on your products to provide the best customer service possible. 
Over to You
For your business to succeed – and continue to succeed, it's vital that you understand your customer needs and pain points. By meeting these needs head-on, you'll be able to enjoy the confidence of knowing that your business is on the right track.